In the wake of regrettable incidents following the Match Day 11 clash between Bofoakwa Tano FC and Nsoatreman FC, Bofoakwa Tano has taken a firm stand against hooliganism, issuing a resolute condemnation of the unacceptable behavior displayed by some of its supporters.
The club, in a public statement, expressed deep disappointment in the conduct of some of its supporters and emphasized its commitment to addressing the issue promptly and comprehensively.
Here is the full press release below: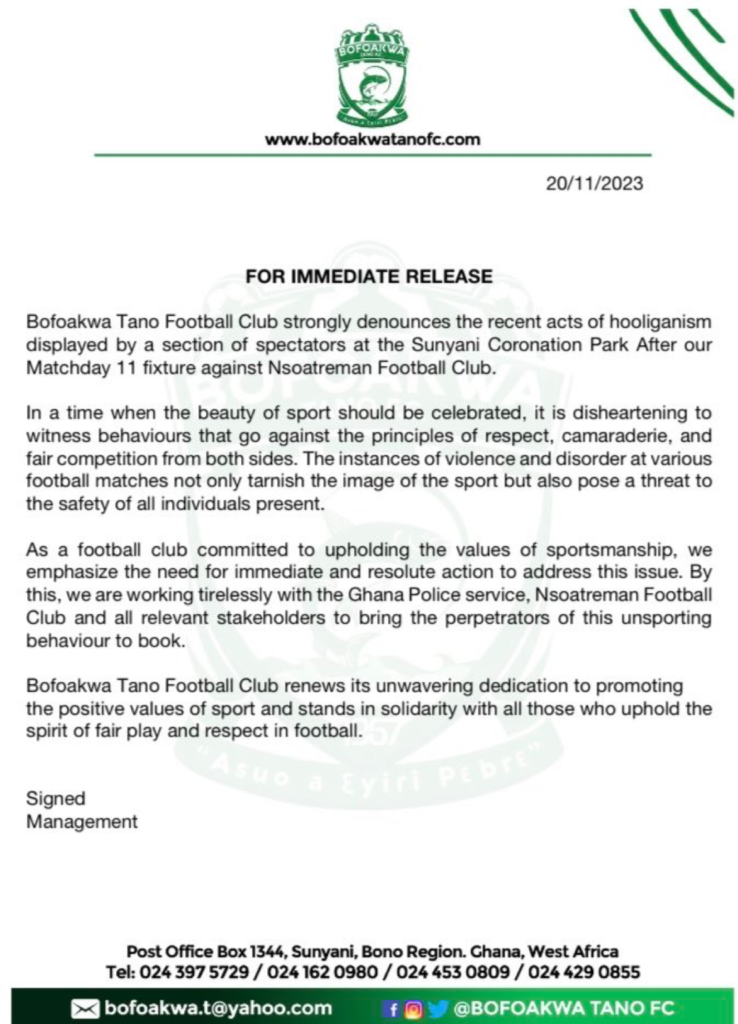 The Ghana Football Association's Executive Council promptly responded to the incidents by imposing a temporary ban on Bofoakwa Tano FC from using the Sunyani Coronation Park as its home venue.
This decisive action, in accordance with Article 14(2) of the GFA Premier League Regulations, reflects a commitment to prioritizing the safety of clubs, match officials, and spectators.
The temporary ban, pending a Disciplinary Committee review, underscores the severity of the situation.
The Executive Council's decision also serves as a reminder to all football clubs about the importance of strict compliance with Safety & Security Regulations and the GFA Disciplinary Code.
Bofoakwa Tano FC is urged to cooperate with the Regional Police in identifying and apprehending those involved in the attack on the away team and the improper confinement of match officials.