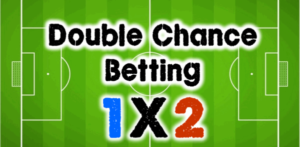 The double chance betting system applies to sports with the three-way system bets, also known as 1X2. It is different from the traditional 1X2 system. Double chance betting makes it possible to bet on two match outcomes in a single bet.
Experts post double chance tips and predictions for sports bettors to stake on the selections. The double chance market has a high win rate because of the two-way possibility. Home win or away win, home win or draw, and away win or draw are the forms of double chance predictions.
The double chance tips explain the predictions and let you know which type will be suitable for the picks. The tipsters make use of sports betting strategies such as team form, team news, home advantage, odds range, the importance of the game and h2h to analyse the double chance betting tips.
Double chance bets are in high demand in football betting. Bettors wager on football matches of their choice on betting sites. Top football leagues and tournaments like Premier League, UCL, World Cup etc, have it in their betting options.
Points to consider when doing Double chance strategy
Before making any type of bet, understanding the bet is important. Know the different types of double chance. Home win or away win is a bet that either the home or away side will win, and they won't draw.
The home win or draw bets is a prediction that either the home side will win or draw, while the away win or draw is a bet that the away team will win or draw.
Team form is a double chance betting strategy used to make predictions. Check out the current form, win rate, draw rate and loss rate. Most times, the better team is who to bank on. Wager on the top team to either win or draw. In cases where both teams are almost equal in form, and any of them can win given the slightest chance, you go with home or away win.
Home advantage is another strategy used for double chance tips. . Good teams have the upper hand when playing at home. It gives them a form of confidence going into any game. Sports bettors can easily go with home win or draw.
The head-to-head of the teams is used to determine the possible outcome. Sometimes teams share the wins in previous meetings. One can go with home win or away win if the chances of them drawing is low.
Consider making use of accumulator bets in your predictions. Tipsters provide Acca in their free bets or paid to their subscribers. The Acca bets have higher odds than single bets, which can result in a high payout.
Next up is the team news. On the team's website or media pages, updates on player availability, injuries and suspensions can be found. The betting odds also matter. No bettor will wager if the double chance predictions  have low odds. The experts research for the best odds online.
Advantages and disadvantages of Double chance betting system
A higher chance of winning bets is an advantage of the double chance betting system. In double chance, bets are made on two possible outcomes as a single bet. You have another shot at winning if one of the outcomes doesn't work out, but the other works out.
For example, if a home win or draw bet is placed on Manchester United. If Man Utd doesn't win but draws the game, you still win the bet. This way, it increases your chances of winning.
Another advantage of double chance betting is that bets can be made conveniently on the underdogs. Not every time the favourite can come on top, sometimes the underdog has a good chance of upsetting them. You can wager on them and get high value returns.
Low risk is an advantage of this betting market. Certainly, any team you back has to avoid a defeat. If it's home win or draw, if the home team doesn't win but draws the game, you win the bet, likewise for the away team or draw. If the latter doesn't win but manages to draw their game, you still win the bet. The fact that it eliminates risks makes it appealing to sports bettors.
Profit if the match is equal: This pertains to double chance 12 bets. When teams are a match, it's likely one of them will trump the other. You can easily wager on home win or away win and still win the bet.
The disadvantage of this betting system is lower odds. The betting odds are significantly lower than the 1X2 bets. This is because of the low risk you're getting and the combination of two match outcomes as one.
One way to get over this is the use of accumulator bets. Combining two or more single bets into a selection will fetch good odds, and one can win big.
Top questions regarding Double chance betting system
What is a double chance bet? – this is a type of bet that combines two match outcomes in a single bet. There are three forms of double bets: Home win or away win, home win or draw and away win or draw.
What is the benefit of the double chance market? – higher chance of winning and low risks are the reason bettors choose this betting market.
Is there a high profit margin in this market? – Yes, even though the odds are low for single bets. The accumulator bets usually have high odds. You cash out big if you win the bet.
Is draw no bet and home win or draw the same? – No, they are different. In home win or draw bets, if the teams draw, you lose the bet. While for draw no bet, if they draw the game, you get a refund.
What are the sports that involve Double chance bets?
Any sports with a three-way system have double chance betting. It is common in football betting. Every top league and tournaments such as EPL, La Liga, Champions League, Copa America, Euros, AFCON and more have this betting market. Ice hockey is also another sport with this betting market. Bets can be made on selections from the American NHL league.
Where to find the best odds for Double chance wagers?
Finding the betting odds for for double chance tips and predictions   is not hard. Search online for the best betting sites. The top bookmakers will come up right on your screen. Pick out the top ones, preferably the top 5 bookies. Compare them to another to pick the one with the best odds.
How to minimize risks when using the Double chance system?
Double chance tips can help in minimising risks. It's better to compare your opinions with that of experts when betting. Analyse each of the teams you pick. Don't use emotions to judge whether a team will win, draw or lose. Use the strategies listed in this article to do the research. Bet only with legal betting sites. Do not bet with any sportsbooks that don't have a licence.